S Subramanian worked for nearly three decades for the Border Roads Organization in India. During his service, he researched and collected information about road safety and automobiles in notebooks. By the year 2000, he had a manuscript of over 10,000 pages.
He went through his notes and brought it down to a quality book called Drive Safe Be Safe. Over the years, author S Subramanian witnessed hundreds of road accidents where people lost their lives, mostly because of their carelessness.
With Drive Safe Be Safe book, S Subramanian aims to help people with important life lessons and raise awareness about road safety.
Read on as author S Subramanian talks about his book, motivation behind writing it, road accidents and safety measures, impact of electric and self-driving cars in India, favorite books, and much more.
1. Let's begin with a brief introduction of yours and an overview of your book- Drive Safe – Be Safe.
I am an automobile engineer who served in Border Roads Organization, New Delhi, for over 28 years and retired as an Executive Engineer. During my service, I went on deputation with the Indian Road Construction Corporation to Libya and worked on a road project constructing roads conforming to international specifications.
Later, I served as a senior manager on a road project aided by the world bank, on National Highway-1 in the Ambala sector. I'm a Member of Society of Automotive Engineers (India), a leading world body in mobility engineering.
My main work involved equipment-oriented road construction in trans-Himalayan regions, Rajasthan, and Libyan deserts. Constructing roads, particularly in hilly regions, is a high-risk work. My service allowed me to study almost all aspects of road safety.
I was interested in researching and collecting details and information on road safety and automobiles, and construction equipment.
My sources were newspapers, magazines, libraries, seminars and meetings. I subscribed to Readers Digest for over 40 years. It was an excellent magazine on road safety and medical miracles in saving the lives of road accident victims. I used to note them down on notebooks. Finally, it became a manuscript of over 10,000 pages.
From 2000 onwards, I started revising the texts and editing them, and regrouping them subject-wise. It took a lot of efforts and money. Once I could make it into a presentable book, I hired a professional cartoonist to draw 20 cartoons suitable for the subjects. I also selected suitable end fillers with jokes.
My intention was to make a book that carries all helpful information and is enjoyable to read. The book contains simple language so that it is easy to understand and follow.
Finally, I could reduce the book to the present form. It has all information for any form of road user need in regular times and moments of emergencies. I can assure you; you will find this book a unique digest and the need of the hour.
2. What motivated you to write the 'Drive Safe – Be Safe' book?
I sowed the seed for writing this book on Wednesday, 4th March 1970.
Now a brief narration of the incident:
I had been serving in border roads in a project called DANTAK in Bhutan since November 1967. I got married to Jaya in September 1969 and brought her along to Bhutan.
On an occasion, we were invited to the Bhutan Army Garrison function, which was located 120 kilometres from our place. We had to travel on a hill road constructed by our department known as DARRAGHA-TASHIGANG-road.
It usually takes about 3.5 hours to travel on hill roads. Me and my wife started at 6 o'clock in the morning and reached there by 10 o'clock. The driver of the jeep was Mr Hamir Singh, a Rajasthani driver of very high calibre.
The function was over by 1 o' clock, and we were returning to our place. The jeep had two doors in front, and one in the back. Two persons could sit in the front along with the driver. Both doors have the top portion open and can be fitted with a framed partition during rains. Otherwise, it provides clear visibility of the road.
I was sitting next to the driver, and my wife was next to the door. After travelling for about 12 kilometres, my wife cried that a wheel was running in front of our jeep. Driver and I also saw it.
The rear left wheel of our jeep got detached from the jeep and rolled freely. Hamir Singh calmly steered the jeep to the hillside and gently dropped the front left wheel in the drain, and the jeep stopped. It all happened in a matter of seconds.
Slowly all of us got down through the driver's door and stood on the road. It took around 5 minutes for us to realise what had happened.
On a hill road, when you are driving down a hill, anything can happen. The whole accident was averted by the wise decision of the driver. This was a perfect example of Drive Safe Be Safe.
This and many such incidents in the following years really motivated me to write this book. I am sure readers will learn many life-saving lessons from the Drive Safe Be Safe book.
Suggested reading: "RNTalks motivates & inspires people to rediscover their SELF and be a better version of themselves each day" – Ranjeeta Nath Ghai
3. From where did you get the idea behind the stories in the book? Do the characters come from real-life incidents or your own imaginations?
The incident narrated in the previous question is ample proof that all real-life incidents in the book are authentic and taken from verifiable sources. Every incident has a message for the reader.
The very purpose of including this is to make the reader aware that this can happen to anybody like you. I am certain about the impact it will have on the reader.
Particularly those in the habit of drinking and driving, please read the incident "I am the driver who killed my own son". I'm hundred percent sure you will think twice before drinking and driving in future.
4. What sort of reviews are you receiving from the readers?
Notion Press, Chennai published the book in February 2019. I got 20 author copies which I sent to my friends and superior officers. Then, I left India for the USA in March 2019, where my daughters live. I could not pursue the book sales vigorously. I kept in touch with some friends but saw very little or no progress.
We returned to India in November 2019. By then, I had a few reviews.
During 2020, despite COVID-19 falling out, I kept trying. All my friends and associates who read the book verbally told me it is an excellent book but did not send any written reviews. I am enclosing a few reviews received.
Personally, I would prefer all readers to act. Action speaks louder than words. Since this is an action book, only action, however small, will definitely bring results.
For example, whenever I travel by bus, I will look for passengers who are in the habit of putting their hands out. Without any hesitation, I will tell them to keep them inside. I will say I personally know the effect of damage that occurred because of holding hands outside.
One notable achievement was from a fellow border roads officer and now a member of Rotary Club of Ottapalam Thrissur, Kerala- Ratma Ram Mohan. I sent him a few copies of the book. He conducted 15 programmes on road safety in various places in club jurisdiction.
The participants were regional transport officers, motor vehicle inspectors, traffic police officials and schools. He managed a few roadshows. Also, It covered a wide spectrum of people. Almost 15000 persons were benefitted.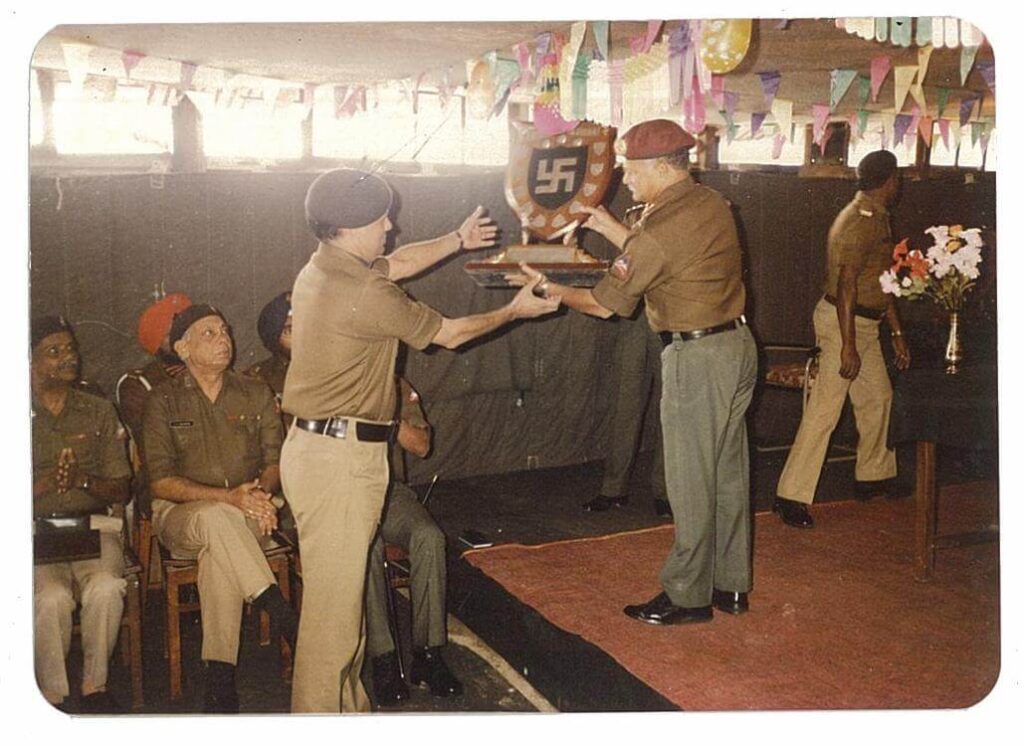 Recently I sent the book To Gen (DR) V.K. Singh PVSM, AVSM, YSM COAS retd now MOS in transport ministry and Sri Yogi Adityanath Ji,  honourable Chief Minister of Uttar Pradesh, and others. I sincerely hope there will be a positive response. The issue is national and vital. It deserves total active attention from every individual.
Also read: "I used to write under a pseudonym, until the release of 'Perspective to Pen' poetry anthology," – Lisa Bain
5. I recently read that India has the worst road safety record globally, with over 13 lakh people losing their lives on roads. What, according to you, is our country lagging compared to other countries? How can we reduce the rate of road accidents?
First, casualties in road accidents is a global problem. The figures are only for comparison. Basic issues are the same all over.
Our country has yet to make proper implementable laws on road safety, pollution, congestion, spurious spares, adulteration of fuel, and lubricants to effectively control the menace.
This should be done and fully enforced without any form of exception. This is the legal aspect.
All violators of these laws are harming the present generation and leaving unsolvable problems for the future generation. Even the persons who are involved in adulteration must also breathe the same air they are polluting.
There should be no laxity in enforcement, as it is detrimental to the country's economy and social fabric.
People should be trained on road safety 24/7 365 days and not for road safety week or fortnight. The benefits of safe road usage and pitfalls of failures to adhere to safety should be brought to everyone's attention.
This cannot be achieved overnight. The best place to start is high schools all over India. The boys and girls are mature enough to understand the issues and old enough to get their driving licences and enter the motoring fraternity. They are our future citizens. During their last two years in school, they should be exposed to all aspects of road usage.
Particularly the advantages to them and the society of following all safety rules as their second nature. They also should know the harmful effects of violation of regulations and accidents on the community and the nation.
Young minds learn fast and retain them. Thereby we will be creating a formidable force of Goodwill Ambassadors on Road. Over the years, this will have an exponential effect on society.
Without any hesitation, I will strongly recommend the book DRIVE SAFE BE SAFE to be used as a project tool.
We can create cities that will serve as model towns on road safety similar to Indore being adjudged as the cleanest city year after year. This will help other cities to learn and implement safety measures. This will have an exponential effect in the long run.
Every year 1.43 crore students appear for class 12 exams in India. If we can create 1.43 crores of students as Goodwill Ambassadors on Road, imagine the effect on society.
This is a definitely achievable target. It is easy to create determination and resolve in young minds.
We can and we should.
Must read: 39 Best Chetan Bhagat quotes about Life, Success, Youth, and Love
6. What, according to you, will be the impact of electric vehicles and self-driving cars in India?
Electric vehicles are less polluting, less noisy and effective main constraints being recharging. On 8th March 2021, there was a news item that an Israeli Scientist found a solution for recharging electric vehicle batteries in 5 minutes instead of the normal 2 to 30 hours.
This will solve the problem to a great extent. It is undoubtedly a preferred mode of transport in future. India can develop solar vehicles as solar power is readily available and cheap.
Self-driven cars are basically high tech variety, but it is not a total substitute for human beings. Human involvement will continue to play an all-important role in future also.
7. Do you read books? If yes, what are some of your all-time favourite books and authors?
The Midnight Line by Lee Child
The main character John Reacher with no middle name. A retired military police major man with no address, no house, no luggage with one folding toothbrush creates wonder wherever he goes. This book is unique for me because I was in the book release ceremony in St Louis Mussoorie (USA) and talked to him and got an autographed copy of the book.
Stay Alive All Your Life by Norman Vincent Peale
Bhagavad Gita by Swami Niranjanananda
The Rembrandt Affair by Daniel Silva
Vulture is a Patient Bird by James Hadley Chase
Red War by Vince Flynn
Wheels by Arther Haily
The R Document by Irwing Wallace
Odessa File by Frederic Forstyh
Our Iceberg is Melting by John Kotter
Ponniyin Selvan, a Tamil novel by Kalki Krishnamurthy
8. If you could pass along three pieces of advice for youth today, what would these be?
All of you must be using some form of transport always, so:
Drive Safe Be Safe. Remember, safe road usage is a 24/7/365 day affair with no respite. Let safety be your watchword all time.
Accidents can happen to anybody at any time. Please render all possible help to the needy in any unfortunate accident. You also may need such help sometime.
Ensure your driving licence expires before you do.
Must read: 10 Important Benefits of Author Website (Writer's Guide)
9. A quick-fire round:
– Luck or Hard Work, what do you think weighs more in defining a successful person?
Hard and smart work is a time tested method of achieving success. Hard, intelligent and consistent efforts on any issue will bring success at the appropriate time. Whereas luck is a matter of chance that may or may not fulfil all your desires, hard work with a periodical review of progress and identifying bottlenecks will undoubtedly bring success.
My vote is for hard work.
– How do you define success?
Success is a very relative term for measuring achievements. It is only an intermediate record of your achievement and not your final destination. At best, it is a stepping stone for raising your abilities. Failure is not exactly the opposite of success. It may impede your way to success and is a way to progress and achieve your ultimate goal.
– A line said by your closed one that you never forget?
This is my beloved wife, JAYA.
Try to bring happiness to others even if it causes some pain to you. Others happiness is worth much more than your meagre pain.
– If you were to write a book about yourself, what would you name it?
I am already on the job, writing my second book titled- Autobiography of An (Not So Average) Indian.
10. What's next for S Subramanian?
You need not be a celebrity to write your own autobiography. Let us begin to give. Remove and spread every atom of goodness in you.
When Mahatma Gandhi wrote his autobiography "Story of my experiments with truth", he would never have dreamt it would become a bestseller one day.
Our Book Marketing Services For Authors