My friends and connections on social media often ask me- What is your review of The Fault in our Stars book?
I had read this novel around five years ago. I didn't use to run this blog back then. Thus, haven't written the Fault in Our Stars book review. Since this book by author John Green has gained so much momentum and love over the years, it was recently made into a Bollywood movie called Dil Bechara.
Related reading: One Arranged Murder Book by Chetan Bhagat: REVIEW
The Fault in Our Stars Book by John Green: Summary
TFIOS book is the story of two teenagers, named Hazel Grace Lancaster and Augustus Waters. They are the main characters of the story. However, one day she finds that she is diagnosed with thyroid cancer. Cancer then spreads from the thyroid to the lungs, making it difficult for her to even breathe properly. She uses oxygen tanks for breathing and has no hopes of getting fully cured. 
Hazel Grace joins a church group that supports orphans and ill people. There she finds two new buddies: Issac and Augustus Waters. A few years ago, Augustus had lost his leg and has been in remission since then. Hazel and Augustus get in love with each other but she feels that her illness can hurt him and things will get worse in the future.
Soon, they plan to visit Amsterdam together to meet an author who had written a book about a girl with cancer but Hazel found the story incomplete in the end. She takes Augustus along to meet the author but he is found drunk.
Their trip is about to end when Augustus' illness starts taking over him. In the end, Hazel spends all her time with Augustus till his last breath. The author of that incomplete story also comes to attend the funeral of Augustus and says sorry to Hazel. He tells that the story was about his daughter who died of cancer.
Hazel Grace is completely lonely after his death, but tries to keep herself strong, knowing that her end is also close.
So, it's the Fault in Our Stars book summary that gives insights into the story and main characters. Let's move on to the review of Fault in Our Stars novel by John Green.
Must read: 50+ Best Rupi Kaur Quotes & Poems To Cross Your Heart
The Fault in Our Stars Book Review
So, here is the book review of The Fault in Our Stars book online:
TFIOS is an ideal fictional story that everyone will love, regardless of age. Although the reader base for this book was considered teenagers and young adults, but people of even old age will find this an interesting and soul-soothing read.
Even if you read The Fault in Our Stars book PDF online, it will give you an emotional feel and touch your heart in several instances in the story. There is a bit of humour as well. If you are a teenager or youth, you are highly likely to go through multiple emotions of life- sadness, laughter, smiler, crying, and care.
This is the reason the book achieved success in the market, was adapted into a Hollywood movie and now a Bollywood movie titled Dil Bechara.  
The length of the book is not much. Even if it was a lengthy book, I would have read it in a maximum of two sittings. You can't skip and wait when the story is good. This is one such book. I loved the book and I'm sure you will love it too.
When the Fault in Our Stars book by John Green made its debut, it hit the New York Times bestseller list in no time. In 2012, the Time Magazine chose it as the #1 fiction book. 
Also read: 39 Best Chetan Bhagat quotes about Life, Success, Youth, and Love
Movies Based on The Fault in Our Stars Book
Since the story has touched millions of hearts, it was adapted into a movie in Hollywood. Later, Bollywood also took inspiration and created Dil Bechara movie based on TFIOS.
TFIOS Hollywood Movie
Josh Boone directed the TFIOS movie, featuring Shailene Woodley as Hazel Grace and Ansel Elgort as Augustus Waters. The Fault in Our Stars movie in Hollywood made over $300 million around the world.
TFIOS Bollywood Movie- Dil Bechara
Mukesh Chhabra directed TFIOS movies in Bollywood, starring Sushant Singh Rajput and Sanjana Sanghi as the main protagonists. It was released on Disney+Hotstar.
The Fault in Our Stars Quotes
Here are some of my favourite and the best quotes from The Fault in Our Stars book by John Green:
"You don't get to choose if you get hurt in this world…but you do have some say in who hurts you. I like my choices."
———-
"The marks humans leave are too often scars."
———-
"What a slut time is. She screws everybody."
———-
"Oh, I wouldn't mind, Hazel Grace. It would be a privilege to have my heart broken by you."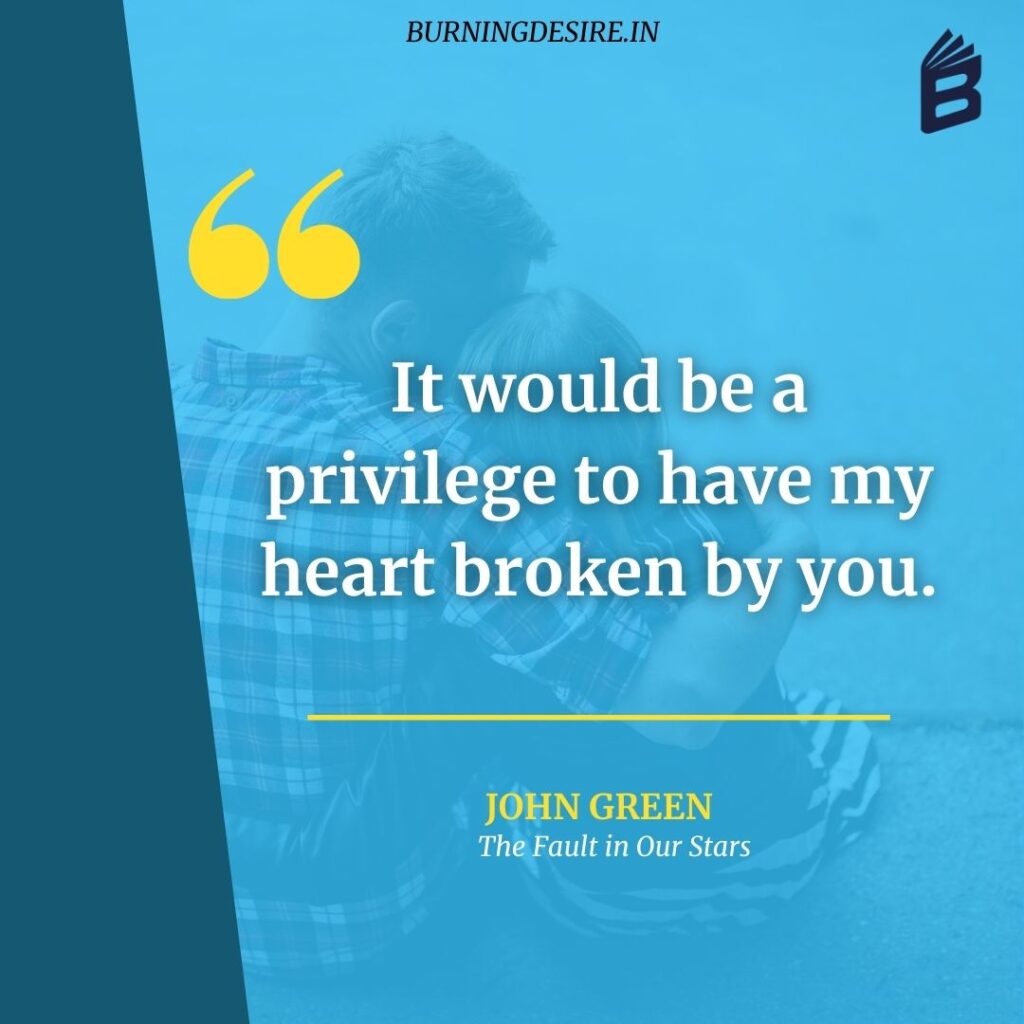 "The world is not a wish-granting factory."
———-
"You gave me a forever within the numbered days, and I'm grateful."
———-
Read next: 27 romantic Nicholas Sparks quotes that will make you fall in love
Wrapping up:
Hope you found the fault in our stars review useful. If you read any novel of John Green, let me know your review and favourite quotes.
Our Book Marketing Services For Authors