Are you looking for the best books on introverts to deal with the world full of extroverts, build leadership qualities, grow and mentally recharge yourself? We have got you covered with the top books ever written for introverts.
It often feels like the world is made for extroverts — from mingling at parties to giving work presentations, an introvert's biggest fears are smooth sailing for their extroverted counterparts. But that doesn't mean it's better to be an extrovert! Introverts have their own natural strengths, many of which are better suited for planning, problem-solving, and general thoughtfulness.
To help introverts tap into their skills and move more confidently through life, here are ten books for introverts (both self-help and fiction) to enjoy today. These books will help you feel a little less alone after reading — but also, that you realize that there's nothing wrong with wanting to be alone!
1. Quiet: The Power of Introverts in a World That Can't Stop Talking —Susan Cain
This classic introvert text has had a massive impact on society's perception of introversion. Quiet book by Susan Cain delves into the psychological differences between introverts and extroverts, how extroverts have been more historically appreciated, and what society loses by devaluing introverts.
Susan Cain represents them wonderfully, with heartening case studies and statistics. Well-researched yet reflective, Quiet is a must-read for introverts and extroverts alike. This is one of the best books to read for introverts.
2. Introvert Power: Why Your Inner Life Is Your Hidden Strength — Laurie Helgoe
It may surprise you to hear that over half of Americans identify as introverts; if introversion is so common, why do we see it as a weakness?
In this beautifully perceptive book, Laurie Helgoe flips the script to show introverts how their inner needs and thoughts can be sources of incredible strength. By learning not to overextend themselves and instead carve out time and space to think, introverts can not only gain control of their own lives, but also lead others.
Suggested reading: Book Review: Life the Way You Design by Sahil Kumar Nagpal
3. The Highly Sensitive Person — Elaine Aron
Though not every introvert is an "HSP", there's enough overlap that most introverts can benefit from reading this book — especially as Elaine Aron tackles the issue of overstimulation not just from social encounters, but from all kinds of discomfort.
If you've ever been criticized for being "too sensitive" or couldn't understand why an innocuous stimulus nearly gave you a mental health crisis, this book will 100% validate your experience — while also providing non-judgmental tips on how to deal with overwhelming situations. The Highly Sensitive Person by Elaine Aron is among the top books for introverts.
4. Networking for People Who Hate Networking — Devora Zack
Devora Zack's work-focused approach to introversion isn't for everyone. But if you're in a field that requires networking, this guide could prove invaluable.
Within its pages, Zack gives advice on how to take advantage of introvert-friendly opportunities (like conferences with defined roles rather than happy hours), turn a preference for "deep" talk over small talk into a social advantage, and even apply these principles to non-work scenarios.
What it means is that, like so many introverts, this business book is much more well-rounded than it appears. So, if you are searching for the best books for introverts in business, Networking for People Who Hate Networking by Devora Zack is the one for you.
Suggested reading: 50+ Best Rupi Kaur Quotes & Poems To Cross Your Heart
5. Daily Rituals: How Artists Work — Mason Currey
Ever wondered how the great writers, philosophers, and even scientists of history have managed to churn out such brilliant work?
In Daily Rituals, wherein Mason Currey has collected the habits and routines of over 160 incredible minds, you'll find out.
While not all his subjects are totally closed off to the world, introverts are sure to see themselves in the many artists and thinkers. These artists and thinkers are those who have tended to isolate themselves during the creative process. It will make you feel reassured that you, too, can lean into their idiosyncrasies and still produce amazing work.
6. Sorry I'm Late, I Didn't Want to Come — Jessica Pan
Meme-loving introverts will recognize the title of this funny, introspective memoir about getting way out of their comfort zone. Jessica Pan is a "shintrovert," or shy introvert, who resolves to live like an extrovert for a year in hopes of enhancing her life.
What follows is an impressively adventurous, wildly entertaining record of Pan's attempts at party hosting, solo travel, standup comedy, and more. If you wish to make a lifestyle change, definitely pick this one up! This is yet another great resource listed among the best books on introverts.
7. The Perks of Being a Wallflower — Stephen Chbosky
Now onto the fiction titles — because as useful as nonfiction can be, sometimes we introverts just want to be the Main Character in a novel. Indeed, Stephen Chbosky's YA classic The Perks of Being a Wallflower is full of emotions and experiences that most introverts will relate to.
Charlie, the titular wallflower, isn't always the most sympathetic protagonist, but we're compelled by his incisive observations and desire to understand himself and others — and in reading his story, perhaps other introverts will feel inspired to tell their own.
8. Where'd You Go, Bernadette? — Maria Semple
This novel by Arrested Development writer Maria Semple is equal parts quirky and suspenseful, complete with a fantastic introvert character.
The introvert in question, Bernadette Fox, is unraveling: from the loss of her esteemed architecture career to savage social pressure from her fellow charter-school moms, all she wants to do is escape.
Then one day she does, disappearing without a trace. It's up to her inquisitive daughter Bee to piece together where Bernadette might be — and convince her to come back home.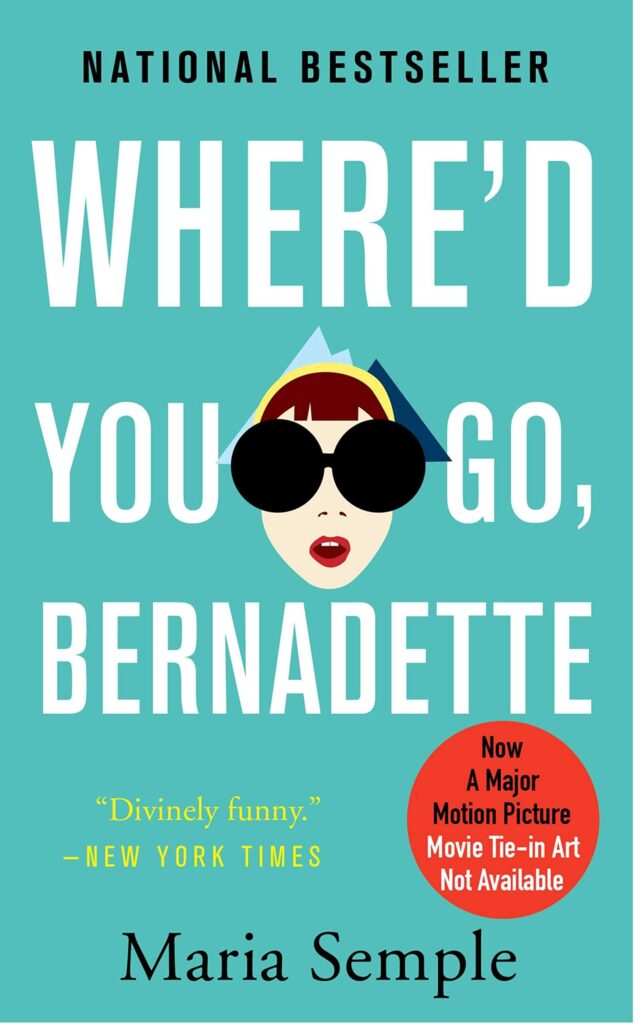 9. The Bookish Life of Nina Hill — Abbi Waxman
As the title suggests, this novel is about a very familiar breed of introvert: the book lover. Of course, to say Nina Hill merely "loves" books would be an understatement. Not only does she spend all her free time reading, but also she also works in a bookstore and wields her literary knowledge at regular trivia nights.
But when a dramatic family revelation and her looming unemployment turn her comfortable existence upside down, Nina must break out of her shell and figure out what she truly wants out of life (other than a home library, of course).
10. Less — Andrew Sean Greer
Capping off this list with a Pulitzer Prize winner, Less is the meta tale of a shy, self-conscious author who nevertheless decides to travel the world (albeit to avoid a potentially awkward social event).
But as Arthur Less goes globetrotting, he finds that in each new country, things are just the opposite of what he expected — and that, even as he bemoans being old and washed-up, he absolutely still has the capacity to be happy.
This is one of the must read books for introverts who love stories that are self-deprecating on the surface, but packed with heart and gorgeously written to boot.
Read Next: 27 romantic Nicholas Sparks quotes that will make you fall in love
Final Thoughts!
Whether you want to read books helping introverts avoid conversation, build leadership qualities, deal with extroverts as an introvert, or simply feel great about being an introverted personality, these books will do the trick for you.
Guest Author: Savannah Cordova
Savannah Cordova is a writer with Reedsy, a marketplace that connects self-publishing authors with the world's best editors, marketers, and designers. In her spare time, Savannah enjoys reading contemporary fiction and writing short stories.
---